Before the instrument comes philosophy. RFM's is to let the chatroom members drive the action in the camera. We combine and mix interactive technologies, so they can mimic the senses, and aim to give each of our interactive spaces equal weight. With that conversation, we create community.

A multimedia environment on the web is produced by a multimedia instrument, or installation. Good quality, especially in video, is expensive. The cost of a basic RFM Installation, end-to-end with new equipment, is around $40K. Maintenance depends on the fixed monthly cost of bandwith, phone, and electricity in your area; supplies like videotapes; and what has to be replaced because it breaks. Always buy fixed-rate telecommunications services. A timed-rate service, like AT&T's conference calls, which can cost $0.10 per minute would break your financial ability to function if you used your installation 20 hours per week. You can also lessen setup costs by using equipment you already have, borrowing pieces from partners, or buying things used.

The trick is to place the cost in a business plan that makes sense. If you are spending your own money, $40K is a lot. If you are a company spending $5 million on a website, and you are using an RFM installation to save $250K in travel costs per year by doing live online training, $40K is cheap. Also, if you get grant money, equipment costs are part of your budget.

In the studio that runs the RFM community, we have CD players, tape players, VCRs, a TV, a Telos digital hybrid phone, a video phone, a wireless camera and receiver, 2 digital cameras, and 4 microphones, 5 computers (one of which shows slides collected and created over two years). In Music Match, we have over 4000 songs, both music collected on the internet and pieces we produced ourselves, also over 2 years. We also have a videotape library of all our shows. And we are working on getting a camera attached to a telescope and putting pictures of the stars on our feed. I wanted that for poetry's sake.

RFM has never made a dime. It is done for love and creative expression. It will always be a non-commercial, experimental, student-project safe place to be. This community and interaction design was my thesis project for my masters degree, and James's installation gave it life.

We don't market. We make friends. As a community manager, I'd rather have the quality emotional connection with a few people than look at high numbers and think they were a measure of my success. I am committed to the emotional bond. Drawback: I have to work at a software company to support it, but somehow a smiling star let me build another RFM installation at work. (I have a great time at work, actually, but don't tell anyone ;-)

I think for any community to be great, there has to be a leap of faith somewhere. Perhaps it is a network with no firewall. Perhaps it is a mailing list where people don't know the list of names. Perhaps it is being the first to build something and develop an idea that people thought was crazy when you started. But when you let go of your heart online, things happen. People come. It somehow turns out OK even with the sorrows and dramas.

In taking this amazing technological and social journey, we have found that the key to RFM is making copies. Copies of the installation in different environments for different purposes, spreading the knowledge. And so our crew embarks on a new adventure.

Now to the design itself:
The idea behind James Mason's original design was to split the audio and video streams, placing whatever components you wanted to use in audio and video mixers. Then place the streams' functions in a line: a VCR to record, a server to encode, a hub to connect all the computers, and a router to send the signal out to the internet. The purpose of each installation is defined by what equipment you put in the mixers. The underlying flow of electricity remains the same. Here is a picture of his idea, which we are trademarking: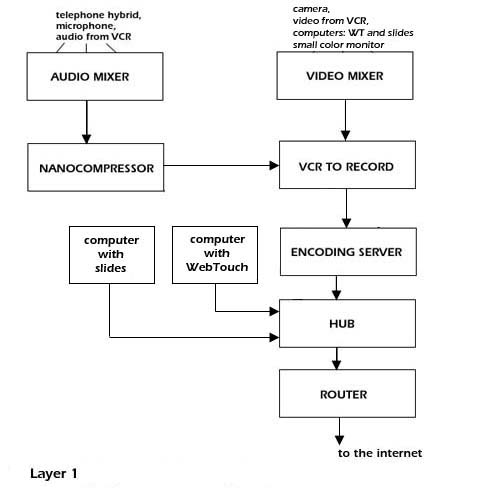 Here is a picture of the training studio we did for MATRAnet. Inc., the company I work for.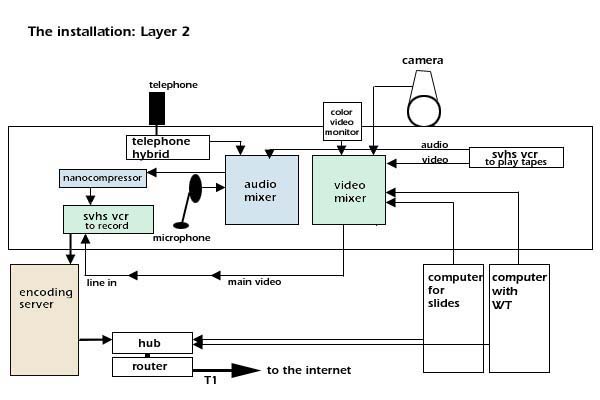 The spec list for the Matranet installation can be reworked many ways (ie, get a different brand of server, run everything on Linux, etc), but it is a basic picture of an audio/visual studio combined with a local area network, and perhaps a wide area network if you host your web site remotely. There are two parts of putting an RFM Installation together. Components and cabling. So, components first:
Network
Compaq Encoding Server: $8970

(2) 18.2 BG ULTRA3 10K RPM1
(2) CPQ-157341-B21 / 256MB 800Mhz RDRAM
CPQ 7/866 AP550 Processor
computer: CPQ PW AP550 7/866 18GB 256 mg
OS: NT Server 4.0 (Service Pack 5)
Soundblaster Live sound card
Osprey 100 video card (with TV in and TV out)
monitor is extra. I grabbed one from an unused desk.
Altec speakers

Dell Precision Workstation 620 -- Computer 1: $5000

800 Mhz Pentium III Xeon processor
256 MB PC800 ECC RDRAM
18 GB Ultra 160/M SCSI (15,000 RPM)
OS: NT Server 4.0 (Service Pack 5)
Diamond Viper 1 video card (with TV out)
Soundblaster Live sound card
17-inch SONY Trinitron monitor

Dell Dimension Desktop -- Computer 2: $2000
Basic home computer with sound and video card

Cisco 2611 router: $4351.25

1 CIS-WIC-1DSU-T1, 2.4, 174/cisco 3600 1pt T1 DSU/CSU- WAN IF card
1 CIS-CISCO2611, 20.8, 15, Cisco2611 ethernet router w/2WIC 1NT
1 CIS-CD26-BHP-12.0.7=,1.0.0,Cisco 2600 IP/IPX/AT/DEC/-FW PLUS

Linksys hub: $168.85

Bandwidth
Qwest: T1 line and local loop charge: $1263

Phone

Bridge to expand conference call capabilities to 6 from Norstar, my company's current phone provider: $5000. No extra per-minute phone charges. To expand to 10 people on a call, you'd buy another bridge.
Telos One Digital Hybrid (Rack Mount Version): $1050
Audio/Visual Equipment
Videonics MX Pro "DV" digital video mixer: $1989.95
(2) Audio-Technica AT4047SV Studio Mike w/Shock mount (2): $959.90
Alesis nanocompressor: $89
Mackie Audio Mixer: $319.95
Bogen 3011 Tripod w/3433 head $194.90
SONY DCR VX1000 3CCD Camcorder Mini DV $2695
(2) JVC SR-S365U S-VHS Recorder/Player/Reg: $1999.90
Radio Shack 5" TV/monitor: $214.95
Avermedia Averkey iMicro 1024x768(compact) video scanner: $99.99
Software
Real Server Plus (60 streams): $2793
Real Producer Plus: $228
Now for the cables. The real art of this is in the cabling. Components require different sized plugs and you have to find adapters all the time, as you imagine what quality audio or video stream you would get after you stitch your components together. Among other things, you have to have a sense of how impedance would affect the electrical circuit you want to create, and therefore the quality of your audio and video output. And you can never get enough power strips. That's just a rule. :-) Total for cables was $359.75.
(2) 8" - 10" S-video cords
(2) short mic XLR cords
(4) 1/4-inch adapter x RCA
(1) 1/4 x 1/4 mono plugs
(1) 1/8 stereo x 1/4 mono x mono Y jack
(1) 1/8 earphones
(8) 6' RCA Audio/Video
(1) 1/8 stereo male x 1/4 female adapter
(4) RCA couplings
(2) long XLR cords
(1) XLR x 1/4 adapter
Boy, I'm reviewing this list and it really looks intimidating. Did I learn all this? No, it's only an illusion. I'd better go back to reading 19th-Century British fiction immediately! :-) Here is what it looks like set up. We installed this list of stuff last Saturday at my company. The encoding server is still being fixed, and we are not streaming out yet, but you can get the basic picture.